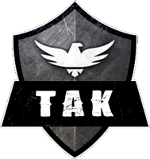 Many fires and public safety incidents in Colorado and other western states occur far from cities and permanently populated areas. Voice communication is typically available to firefighters in these backcountry areas through land mobile radios or satellite phones. However, Internet connectivity is frequently unavailable to firefighters in the backcountry or during large disasters that disrupt communications infrastructure in populated areas. The CoE is working to provide map-based situational awareness to firefighters and other first responders when traditional Internet access is unavailable or unreliable.
Much of the CoE's work in this area has focused on the Team Awareness Kit (TAK) (https://takmaps.com/). TAK is a geospatial mapping engine, originally developed for the Android operating system, that facilitates situational awareness, navigation, and data sharing.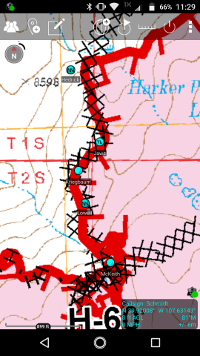 TAK can function as a stand-alone situational awareness tool or can be incorporated into various tactical and commercial data networks. TAK is under continuous development as a Program of Record by the U.S. Special Operations Command and partner government laboratories, including the U.S. Air Force Research Laboratory and the Defense Advanced Research Projects Agency. TAK employs a "government off-the-shelf" model, which stipulates that any new features developed for TAK be provided back to the government, thus ensuring that all government TAK users have free access to the software.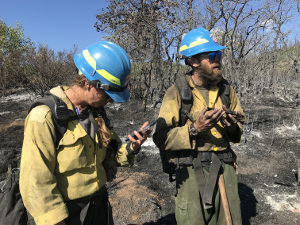 The CoE is utilizing TAK with a cloud-based server when Internet connectivity is available and is evaluating commercially available radios and deployable networks that enable the TAK app to function without a full Internet connection. When disconnected from the Internet, TAK can either transmit basic data (such as position reports) directly between radios, or utilize a small server physically deployed at the incident to relay maps and more complex data. The CoE has deployed TAK at public safety incidents in Colorado, as well as with Colorado Division of Fire Prevention and Control fire crews, to gain an operational perspective on the system.
The CoE's goal is to facilitate the utilization of a system that will enable first responders to reliably transmit location information, collaboratively map an incident, and access other tools that enable them to be safe, effective, and efficient in their operations, even if traditional Internet connections are degraded or absent. The CoE will provide information on progress toward this goal as it becomes available.